Empowering IMS implementation with KAÏNA-COM Expertise
What is IMS?
We can describe IMS as following :
Is a new model defining the control layer of NGN (Next Generation Networks)
Aims to provide packet-oriented multimedia services for next generation IP-based mobile networks
Provides a flexible architecture for the rapid deployment of innovative features with IMS, media control, session control and application control are separated as distinct entities
Enables users to communicate with video / voice / text via a single client on the handset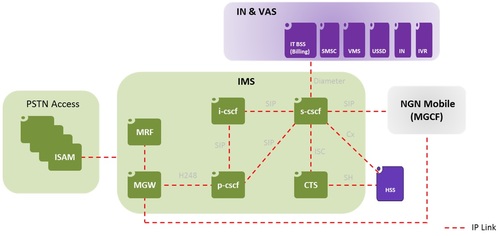 Figure 1: IMS architecture overview
Our activities in IMS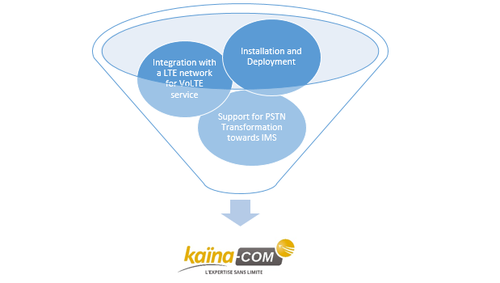 Figure 2: Our activities in IMS
1. Installation and Deployment
KAÏNA-COM's engineers have proven experience in installation, integration and deployment of IMS's core network equipment/solution (P-CSCF, I-CSCF, S-CSCF, HSS, MGCF and AGCF).
We could take as example, various installations, integrations and deployments to the EBC (Executive Briefing Center) at Alcatel-Lucent Villarceaux (France).
2. Deployment of VoLTE service
Since LTE and VoLTE services are a fundamental part of next-generation mobile network, voice handover to legacy CS (Circuit Switch) systems is a key capability while LTE network coverage continues to grow.
SRVCC (Single Radio Voice Call Continuity) is the solution for voice call continuity and uses a single radio in the user's device along with upgrades to the supporting network infrastructure. This solution transfers VoLTE calls in progress from LTE to legacy voice networks, while meeting rigorous QoS standards. SRVCC provides continuity for PS to CS handover between LTE and WCDMA/GSM networks and also from LTE to CDMA networks.
IMS with MMTel service (Multimedia Telephony) will be used to control the call during this voice handover mechanism.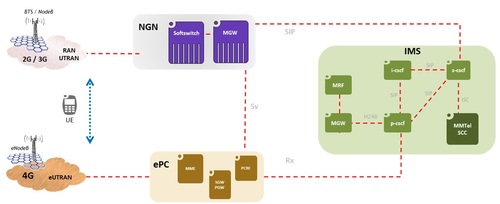 Figure 3: SRVCC architecture
3. Support for PSTN Transformation towards IMS
There are several architectural choices the operator has to make in planning the migration to IMS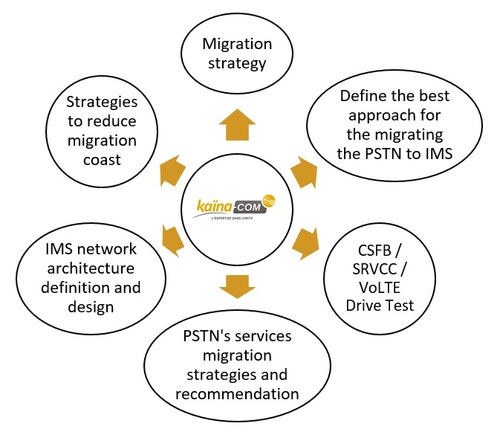 Figure 4: PSTN Transformation towards IMS
A. Motivation for PSTN migration towards IMS
The IP Multimedia System (IMS) is being adopted globally as the standard architecture for next-generation voice and multimedia services. As a result, many Service Providers plan to use IMS.
We can list the following benefits:
Eventual elimination of the traditional PSTN.
Evolve to a more efficient and scalable SIP-based end-to-end solution
Offer new revenue-generating services
Reduce equipment power consumption and footprints >60%, reduce O&M cost >40%
B. Work on strategies to reduce migration cost
KAÏNA-Com's engineers are able to support Service Providers in order to reduce IMS migration coast based on following strategies:
Coupling PSTN migration with broadband access transformation leveraging Multi Service Access Node (MSAN) for POTS termination. By appropriately deploying voice-capable MSANs, Service Providers can exploit the synergies between PSTN migration and broadband access transformation and minimize their investments.
Keeping some legacy services in a consolidated PSTN environment that can be accessed through interworking mechanisms to minimize upfront investments in the IMS network, and lower the overall PSTN migration cost.
Discontinuing services with diminishing value add. Examples of such services might include: coin, ISDN BRI, and low bit-rate data services.
Targeting low chum areas first to protect the PSTN revenues in stable markets while lowering the operator's cost structure with the migration to IMS. However, in less stable markets, Service Providers should promote a lower-cost VoIP.
C. New IMS network architecture definition and design
Les ingénieurs de KAÏNA-COM ont une très bonne expérience sur la définition et le design de nouvelle architecture IMS.
Cette architecture est décrite en vue d'ensemble ou dans les détails dans des documents d'ingénierie HLD (High Level Design) et LLD (Low Level Design).
D. PSTN's services migration strategies and recommendation
There are several strategies that Service Providers should consider when migrating the PSTN services to IMS:
Service simulation
Service emulation
Crossover service
Service elimination
Following above strategies, KAÏNA-COM's recommendations to Service Providers for good migration are:
Migrate the basic and supplementary services that are available in IMS using PSTN emulated strategy.
Leverage existing IN services in IMS using a crossover strategy.
Reuse PSTN assets that are critical to support emergency services.
Keep in PSTN services that are not economical to migrate to IMS.
Promote service substitution for services that Service Providers plan to discontinue.
E. Define the best approach for the migrating the PSTN to IMS
- POTS and ISDN
New access technologies will be used by Service Providers for POTS/ISDN service migration in order to provide broadband access. Different options are available:
H248 base access gateway (AGW) for AGCF (Access Gateway Controller Function)
SIP based AGW
MSAN with integrated voice gateway
Digital Loop Carrier (DLC) gateway
MSAN for xDSL and FTTN with residential gateway
xPON for FTTH with ONT (Optical Network Terminal)
- The call control network
The best approach for Service Providers is to deploy a new IMS core even if a Soft Switch was already in place. This will avoid steps of migrating the Soft Switch to IMS core.
Benefits of installing a new IMS core are:
Low CAPEX and OPEX because of a converged fixe mobile core network
Flexibility on integrating new service.
- The Intelligent Network (IN)
We recommend the re-use of the existing IN network for IMS in the short and intermediate terms
F. Migration strategy
KAÏNA-COM's engineers have a proven experience to define recommendation on migration strategy as well as migration steps as following:
Deploy a new broadband access platform in conjunction with a distributed overlay IMS core for call control, T AS for emulated PSTN services and MGW for PSTN bearer interworking.
Leverage IN capabilities in IMS through interworking at the MGCF/SG (Mediagateway Controller Function / Signaling Gateway)
Migrate the POTS lines to the broadband access platform and ISDN PRI to a centralized PRI MGW.
Decommission corresponding C4, C5 and tandem switches.
Enable enhanced routing features in support of C4 functions, build QoS capabilities based on Resource Admission Control Sub-system, and introduce georedundancy
Implement the BGF (Border Gateway Function) for bearer/signaling peering with other IMS networks.
Finally, consider IN migration/integration into IMS
G. SRVCC / VoLTE Performance Assessment and Analysis Report
A Performance Assessment will be done on field (Drive Test) in order to verify SRVCC/VoLTE implementation.
As result, a Final Report with will be sent to the customer highlighting the Performance assessment measured and also recommendations to optimize and fine tuning the SRVCC/VoLTE feature.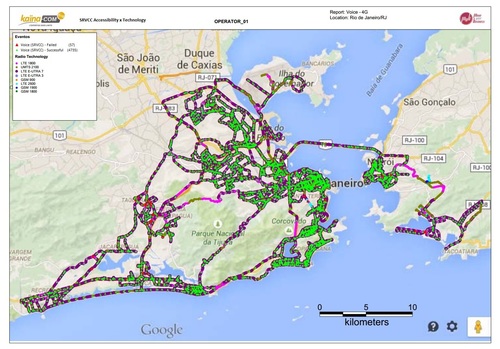 Figure 5: SRVCC Drive Test example: SRVCC Accessibility x Technology
Bottom line: For a particular Operator, IMS implementation is a Case-by-Case decision.
KAÏNA-COM is here in order to empower IMS by enabling enhanced Services and customizing a tailored solution according to Operator needs.